The start of 2017 is an exciting and unfortunately terrifying time which will carry lots of changes from the past year. But one of those changes is that, for a brief time, my arts blog will miraculously spring back to life as I assess the year in movies and talk about the Oscars for a bit. I hope you're all excited.
And to kick off my assessment of 2016 in the world of film, I'm going to look at what I think were the 100 best film performances from the past year. It wasn't a great year for film (or for much else, to be honest) but there was still some great work. Even in some films I didn't care for, there were some great performances, and plenty of strong performances didn't make my list because there were so many options. My list contains what I think are probably some surprises, as well as some pretty standard choices. Of course, I wasn't able to see everything and there were lots of films I didn't get to which might have otherwise appeared on this list. Notable ones include potential Oscar nominee
Loving
, as well as films like
American Honey, Certain Women, Denial, The Salesman,
Miss Sloane
, and
Queen of Katwe
just to name a few.
These caveats aside, here is the full list for your consideration!
100) Olivia Colman as The Hotel Manager, The Lobster
99) Ida Engvoli as Sonja, A Man Called Ove
98) Mahershala Ali as Juan, Moonlight
97) Max Records as John Wayne Cleaver, I Am Not a Serial Killer
96) Stephen McKinley Henderson as Jim Bono, Fences
95) Narges Rashidi as Shideh, Under the Shadow
94) Tom Hiddleston as Robert Laing, High-Rise
93) Chris Pine as Toby Howard, Hell or High Water
92) Peter Simonischek as Winfried Conradi, Toni Erdmann
91) Alysia Reiner as Samantha Ryan, Equity
Mahershala Ali, pictured here with Alex Hibbert, is seen as an Oscar frontrunner for his excellent work in Moonlight, but personally I thought that other supporting actors in the film have roles which allowed for more Oscar-worthy performances, hence his relatively low ranking on my list.
90) Michael Shannon as Bobby Andes, Nocturnal Animals
89) Bahar Pars as Parvaneh, A Man Called Ove
88) Lucy Boynton as Raphina, Sing Street
87) Aaron Taylor-Johnson as Ray Marcus, Nocturnal Animals
86) Sarah Megan Thomas as Erin Manning, Equity
85) Kate Dickie as Katherine, The Witch
84) Elle Fanning as Julie, 20th Century Women
83) Ben Whishaw as Limping Man, The Lobster
82) Julianne Moore as Georgette Nørgaard, Maggie's Plan
81) Panos Koronis as Yorgos, Chevalier
Panos Koronis (second from the right) was a standout in the excellent ensemble cast of Chevalier.
80) Bill Murray as Baloo, The Jungle Book
79) Kate McKinnon as Jillian Holtzmann, Ghostbusters
78) Rachel Weisz as Short Sighted Woman, The Lobster
77) Sam Neill as Hec Faulkner, Hunt for the Wilderpeople
76) Dean Norris as John Kurlander, Remember
75) Nicole Kidman as Annie Fang, The Family Fang
74) Alden Ehrenreich as Hobie Doyle, Hail, Caesar
73) Jake Gyllenhaal as Edward Sheffield/Tony Hastings, Nocturnal Animals
72) Toby Jones as The King of Highhills, Tale of Tales
71) Ryan Gosling as Sebastian Wilder, La La Land
Dean Norris may only have one scene in Remember, but his chilling and timely portrayal of an American Nazi easily earns him a spot on this list.
70) Giulia Lazzarini as Ada, Mia Madre
69) Colin Farrell as David, The Lobster
68) Greta Gerwig as Maggie Harden, Maggie's Plan
67) Ralph Ineson as William, The Witch
66) Taraji P. Henson as Katherine Goble, Hidden Figures
65) Idris Elba as Shere Khan, The Jungle Book
64) Denzel Washington as Troy Maxson, Fences
63) Ginnifer Goodwin as Judy Hopps, Zootopia
62) Michael Shannon as Roy Tomlin, Midnight Special
61) Efthymis Papadimitriou as Dimitris, Chevalier
Ellen DeGeneres, recording one of the many phenomenal voice-over performances from this year.
60) Ellen DeGeneres as Dory, Finding Dory
59) Martin Landau as Max Rosenbaum, Remember
58) Marion Cotillard as Marianne Beausejour, Allied
57) Michael Shannon as Tom, Complete Unknown
56) Rima Te Wiata as Bella Faulkner, Hunt for the Wilderpeople
55) Ruth Wilson as Lily, I Am the Pretty Thing That Lives in the House
54) Emma Stone as Mia Dolan, La La Land
53) Ashton Sanders as Teen Chiron, Moonlight
52) Christopher Lloyd as Bill Crowley, I Am Not a Serial Killer
51) Cliff Curtis as Genesis Potini, The Dark Horse
The 78-year-old Christopher Lloyd does some of the best work of his career as the simultaneously villainous and sympathetic Bill Crowley in I Am Not a Serial Killer.
50) Don Cheadle as Miles Davis, Miles Ahead
49) Daniel Radcliffe as Nate Foster, Imperium
48) Mark Duplass as Jim, Blue Jay
47) Julian Dennison as Ricky Baker, Hunt for the Wilderpeople
46) Jeff Bridges as Marcus Hamilton, Hell or High Water
45) Michelle Williams as Randi, Manchester by the Sea
44) Isabelle Huppert as
Michèle Leblanc, Elle
43) Ruby Barnhill as Sophie, The BFG
42) John Gallagher Jr. as Emmett DeWitt, 10 Cloverfield Lane
41) Patrick Stewart as Darcy Banker, Green Room
See Green Room if you ever want to be absolutely fucking terrified of Patrick Stewart.
40) Ben Foster as Tanner Howard, Hell or High Water
39) Lucas Jade Zumann as Jamie Fields, 20th Century Women
38) Rolf
Lassgård as Ove, A Man Called Ove
37) Hayley Squires as Katie Morgan, I, Daniel Blake
36) Anya Taylor-Joy as Thomasin, The Witch
35) Amy Adams as Louise Banks, Arrival
34) Gillian Jacobs as Samantha, Don't Think Twice
33) Paul Dano as Hank Thompson, Swiss Army Man
32) Ryan Reynolds as Wade Wilson/Deadpool, Deadpool
31) Anna Gunn as Naomi Bishop, Equity
Anna Gunn leads a strong cast in the feminist financial thriller Equity.
30) Rachel Weisz as Alice Manning, Complete Unknown
29) Tom Hanks as Captain Chesley Sullenberger, Sully
28) Kim Min-hee as Lady Hideko, The Handmaiden
27) Sarah Paulson as Amanda, Blue Jay
26) Mary Elizabeth Winstead as Michelle, 10 Cloverfield Lane
25) Dave Johns as Daniel Blake, I, Daniel Blake
24) Royalty Hightower as Toni, The Fits
23) Lucas Hedges as Patrick Chandler, Manchester by the Sea
22) Johnny Depp as Donald Trump, Donald Trump's The Art of the Deal: The Movie
21) Meryl Streep as Florence Foster Jenkins, Florence Foster Jenkins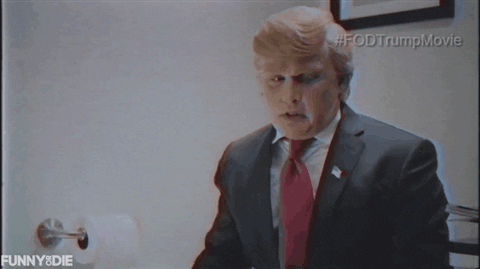 Yes, Johnny Depp is a terrible person. And, yes, Donald Trump's The Art of the Deal: The Movie was a Funny Or Die-produced movie that was never released in theaters. But just look at this gif from Depp's portrayal of Trump! He deserves an Oscar just for the range of facial expressions shown in this gif.
20) Margherita Buy as Margherita, Mia Madre
19) Mark Rylance as The BFG, The BFG
18) Trevante Rhodes as Chiron/"Black", Moonlight
17) Sandra Hüller as Ines Conradi, Toni Erdmann
16) Jovan Adepo as Cory Maxson, Fences
15) Casey Affleck as Lee Chandler, Manchester by the Sea
14) Daniel Radcliffe as Manny, Swiss Army Man
13) Sharlto Copley as Jimmy, Hardcore Henry
12) Annette Bening as Dorothea Fields, 20th Century Women
11) Jack Reynor as Brendan Lalor, Sing Street
The always wonderful Annette Bening, seen here with Lucas Jade Zumann, gives one of the best performances of her prolific career in the charming 20th Century Women.
10) Christopher Plummer as Zev Gutman, Remember
9) Kim Tae-ri as Sook-hee, The Handmaiden
8) André Holland as Kevin, Moonlight
7) Adam Driver as Paterson, Paterson
6) John Turturro as Barry Huggins, Mia Madre
5) Naomie Harris as Paula, Moonlight
4) Elle Fanning as Jesse, The Neon Demon
3) Viola Davis as Rose Maxson, Fences
2) John Goodman as Howard Stambler, 10 Cloverfield Lane
1) Natalie Portman as Jacqueline Kennedy Onassis, Jackie
Natalie Portman gives the best performance of the year in Jackie. She's going to win all of the awards, and she is 100% going to deserve them. It's a performance that transcends an impression and becomes an absolute embodiment of Jackie Kennedy.
Four actors manage to show up more than once. Two of them happen to be former child actors did some really interesting and challenging work this year: Elle Fanning (for The

Neon Demon

and

20th Century Women

)

and Daniel Radcliffe (for Swiss Army Man and Imperium). Also with two appearances is Rachel Weisz (for The Lobster and Complete Unknown). Also on this list

is Weisz's

Complete Unknown

co-star Michael Shannon, who makes it on three times (also for M

idnight Special

and Nocturnal Animals).
Several movies also have multiple appearances. Moonlight has the most actors on this list with 5 (and I can tell you that Alex Hibbert, who plays Child Chiron/"Little" was very close to making the list). The Lobster and Fences each have four appearances here. And then a lot of films have three performances show up: 10 Cloverfield Lane, Mia Madre, 20th Century Women, Remember, Manchester by the Sea, Equity, The Witch, Hell or High Water, Hunt for the Wilderpeople, Nocturnal Animals and A Man Called Ove.